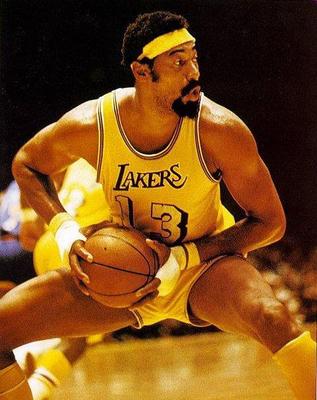 #3 - Wilt Chamberlain
Wilton Normand Chamberlain was born on August 21, 1936. Wilt attended the University of Kansas playing on their team, and also on the Harlem Globetrotters before playing in the NBA. Wilt was, and is considered one of the best players in NBA history. Wilt Chamberlain retired from the NBA having 31 419 points (30.1 pgg), 23,924 rebounds (22.9 rpg) and 4,643 assists (4.4 apg). Wilt was also a 2 time NBA champion, 4 time MVP, and appeared in 13 NBA All-Star games. Chamberlain led his Kansas JayHawks to the NCAA finals where they lost to North Carolina.
Wilt Chamberlain Statistics:
Chamberlain had 271 40 point games, 118 50 point games, and 32 60 point games.
Highest points in a game: 100
Most points in a half: 59
Most field goals made: 36
Most field goals attempted: 63
Most Free throws made in a game: 28
Most Rebounds in a game: 55
Highest scoring average: 50.4
Wilt's Athletic Honours:
Two Time NBA Champion (1967, 1972)
Four Time NBA MVP (1960, 1966, 1967, 1968)
NBA Finals MVP (1972)
Seven Time All-NBA First Team (1960-1962, 1964, 1965-1968)
Two Time NBA All-Defensive First Team (1972, 1973)
NBA All-Star Game MVP (1960)
Thirteen Time NBA All-Star (1960-1969, 1971-1973)
Seven Time NBA Scoring Champion (1960-1966)
Eleven Time NBA Rebounding Champion (1960-1963, 1966-1969, 1971-1973)
NBA Rookie of the Year (1960)
This concludes my post about Wilt Chamberlain, look for a non NBA related post tomorrow guys! Much love
-Riley
Penulis : RileyAndJustin ~ Sebuah blog yang menyediakan berbagai macam informasi
Artikel
Next Legend!
ini dipublish oleh
RileyAndJustin
pada hari
Sunday, April 29, 2012
. Semoga artikel ini dapat bermanfaat.Terimakasih atas kunjungan Anda silahkan tinggalkan komentar.sudah ada
1comments:
di postingan
Next Legend!